ICRA 2014 Workshop on Persistent Autonomy for Marine Robotics
Date: 2014/06/05
Venue: IEEE International Conference on Robotics and Automation - ICRA 2014
Location: Hong Kong, China
Organisers
Francesco Maurelli, Heriot-Watt University, Scotland (UK)
David Lane, Heriot-Watt University, Scotland (UK)
Kostas J. Kyriakopoulos, National Technical University Athens, Greece
Petar Kormushev, Italian Institute of Technology, Italy
Marc Carreras, Universitat de Girona, Catalunya (Spain)
Maria Fox, King's College London, UK
The workshop is co-organised by the IEEE Technical Committee on Robot Learning and sponsored by the IEEE Technical Committee on Marine Robotics .
Important Dates
2014/03/24: deadline for paper submission
2014/03/31: notification to authors
2014/04/06: final submission
Journal Special Issue
Selected contributions will be asked to submit an extended version for consideration for a Special Issue of the Springer Autonomous Robots journal.
Objectives
In recent years, persistent autonomy has become a key area of interest for marine robotics researchers. Ocean observatories require autonomous robot deployments over months or years, observing dynamic phenomenon both synoptically and over variational scales in space and time. Deep-water oilfield inspection and intervention with autonomous vehicles is now a commercial reality, but fielded robots rely heavily on accurate a priori models of the subsea assets. Robustness to errors in autonomous contact tasks, such as valve turning on a wellhead, requires detection of execution errors and correction at any or all of dynamic control, motion planning or task planning levels. Numerous coastline security applications require extended operations over the horizon, with the ability to detect, track and re-plan when objects of interest are located, or shared between robots.
Today, our current generations of Autonomous Underwater Vehicles (AUVs) are generally limited to preplanned missions, or to limited forms of autonomy involving script switching and re-parametrisation in response to preprogrammed events. Realising the persistent autonomy that users in the ocean increasingly demand is involving a greater capability in understanding sensed events to detect failure and error, and more capable task planning approaches that can adapt behaviour and control in new ways. Research activities include richer semantic modelling of the environment using ontologies derived from sonar and video sensor data, skill learning applied to underwater autonomous manipulation using machine learning, plan adaptation to correct errors, and robust control to reduce effects of poor low level control exciting higher level decision making unnecessarily.
This workshop is aimed to promote exchange and sharing of experiences among researchers in the field of persistent long-term autonomy for autonomous underwater vehicles. The programme of the workshop will consist of invited talks and selected papers for oral presentation. The format will encourage active interaction among participants, with short presentations to give time for discussions and brainstorming on future directions.
Topics
The topics of interest include, but are not limited to:
Autonomous long-term navigation, localisation and SLAM
Dynamic replanning, planning under uncertainty
Semantic-based world modeling, probabilistic approaches in ontologies
Smart control strategies
Architectures for long-term autonomy
Robust learning techniques
Probabilistic graphical models
Bio-inspired and bio-mimetic approaches
Intended Audience
The workshop aims to gather together experienced researchers, industrial engineers and students wishing to gain up to date perspectives in marine robotics and autonomy from international experts and leaders in the field. Researchers are invited to actively attend the workshop, bringing not just their successful expertise in the field, but also their challenges and their open problems, in order to foster discussion and cooperation. The audience will be actively engaged by the speakers, to comment on the presented
approaches and contribute to the definition of the future challenges in the field. Although the main focus will be on underwater vehicles, a few talks from other domains are expected, in order to foster cross-domain cooperation, and increase the audience.
Invited Speakers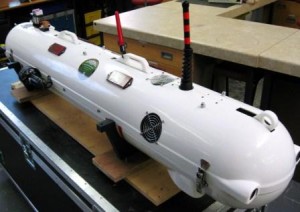 Ralf Bachmayer, Canada Research Chair in Ocean Technology, Memorial University Canada
Kanna Rajan, Principal Researcher for Autonomy, Monterey Bay Aquarium Research Institute (MBARI)
Gaurav Sukhatme

,

Professor and Chairman Department of Computer Science, University of Southern California
Proceedings
All accepted papers will be published in the Workshop proceedings.
Paper submission details
Papers should be submitted using the standard IEEE ICRA conference template and should be 4-6 pages long. LaTeX template available at:
http://ras.papercept.net/conferences/support/tex.php
Papers should be submitted through EasyChair:
https://www.easychair.org/conferences/?conf=pamr14
For any queries, please contact Francesco Maurelli: pamr14@easychair.org